Disney and Sega's movie-spoof of 1995 Disney film, "A Goofy Movie".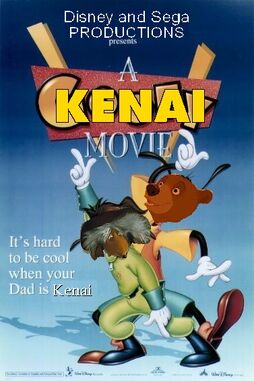 Cast:
Max Goof - Orinoco (The Wombles)
Goofy - Kenai (Brother Bear)
P.J. - Etherled (The Talking Parcel)
Peter Pete - Baron Greenback (Danger Mouse)
Roxanne - Nellie the Elephant
Robert "Bobby" Zimmeruski - Flik (A Bug's Life)
Principal Mazur - Mash (Looney Lab)
Bigfoot as itself
Stacy - Princess Atta (A Bug's Life)
Lester - Danny (Cats Don't Dance)
Lester's Possum Pals (Buford, Beulah and Mordechai) - Baloo (The Jungle Book), Sawyer (Cats Don't Dance) and Jim Crow (Dumbo)
The Possum Park Emcee - Bagheera (The Jungle Book)
Powerline - Yogi Bear
Lisa - Miss Piggy (The Muppets)
Waitress - Jeopardy Mouse (Danger Mouse)
Miss Maples - Duchess (The Aristocats)
Chad - Kermit the Frog (The Muppets)
Piano Player - Count Duckula
3 Female Country Singers - Sam, Alex and Clover (Totally Spies!)
Tow Truck Driver - Genie (Aladdin)
Prisoner - King of Swamp Castle (Monty Python and the Holy Grail)
Small Man - Mushu (Mulan)
Small Man's Large Wife - Ariel (The Little Mermaid)
Mickey Mouse - Conker the Squirrel (Conker's Bad Fur Day/Conker's Live and Reloaded)
Donald Duck - King Louie (The Jungle Book)
Little Old Lady - Lois Einhorn/Ray Finkle (Ace Ventura: Pet Detective)
Little Old Lady's Cats - Penguin's March (Farce of the Penguins)
Nuns - The Powerpuff Girls
Man Driving Funeral Car - Igor (Count Duckula)
Creepy Green Man - Dr. Von Goosewing (Count Duckula)
Security Guard - Hunter (Storks)
Poster:
Community content is available under
CC-BY-SA
unless otherwise noted.